Sell your vehicle to Global for cash
No-obligation home demonstrations
Car finance from Global Cars
Arrange a no-obligation test drive
Long term parking at Alicante Airport
We can arrange to deliver your vehicle
Save money by sharing a car
Second Hand Used Cars for Sale in Spain
Global Car Centre Group S.L.
Peter Higginson, the founder and group chairman, has over 52 years experience in retailing new and used cars and promises total satisfaction.
"You only get as big as Global by offering good, honest, value for money. Over 55,000 clients can't be wrong."
Global Car Centre Group S.L. is a family business with Peter managing the Moraira branch while Keiran, his youngest son, is based at Global Car Centre Denia. The long term airport parking service next to Alicante airport is managed by operations manager Nicole Cockrill who looks after over 6,000 clients' cars.
With the Global Car Centre virtual online showroom you may request a no-obligation home demonstration of any vehicle within the regions of Alicante, Almeria, Murcia and Torrevieja.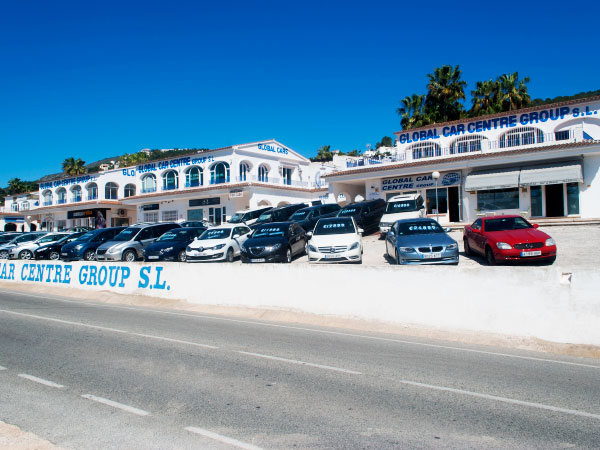 We are Committed to our Customers
The Global Car Centre services include an airport service at Alicante airport where 6,000 Global clients park at any one time in our long term car park.
Global import cars, export cars and deliver anywhere worldwide, specialising in 6 to 9 month old Citroen, Ford, Renault and Mercedes models from 6 years old to brand new. Any new car supplied is tax paid or can be tax free for export sales - with all of the car transfer paperwork taken care of. Global also supply new and used cars to the trade in single units or bulk.
Global Vehicle Services
Global Car Centre Group are insurance agents for 5 major international companies enabling them to find the best package and price for each customer. Global also supply lease contracts for property owners in Spain at very competitive rates.
Any plated car is accepted as part exchange and all major credit cards are welcome or alternatively finance can be arranged with a full money back guarantee if purchased unseen.
Buy a Car with Confidence
No-one comes close for total customer and dealer commitment, service, quality, condition and price. Overall Global are the largest, most competitive car dealer group on the Spanish coast with over 32 years of serving their customers and their feet firmly on the ground.
"Global" has become a household name for all your motoring requirements.

---
12 month warranty
on all retail cars
Finance within 24 hours
for house/mortgage holders with proof of income/pension
SALES HOTLINE
+34 96 649 0356
Global Car Centre Remains Open
---
Due to the extraordinary circumstances caused by the COVID-19 pandemic and the emergency procedures applied in Spain we would like to inform you of our operating procedures during this time.
Our upmost priority is our customers, employees and partners. Due to lockdown procedures affecting the whole of Spain our physical branches will remain closed until such restrictions are lifted by the Spanish government.
We are still available to attend to you via telephone and email, we continue to accept telephone and online vehicle sales and reservations, and our airport service remains open for those able to travel.
Vehicles purchased will continue to be delivered on a one-to-one basis under the strictest hygiene standards.
---
We thank you and appreciate your understanding.
Global Car Centre Group S.L.